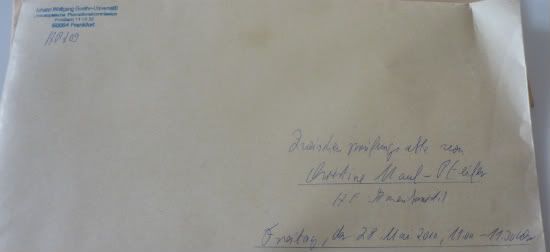 Nach Wochen des Lernens, Schweißbadens und der Nervosität hab ich es geschafft: Ich habe meine Zwischenprüfung mit 1,7 bestanden! Zwar gingen die Fragen in eine etwas andere Richtung, als ich dachte, aber ich habe es gemeistert. Ich bin erleichtert, dass es so gut lief und freute mich riesig, dass einige meiner engsten Freunde mich direkt nach der Prüfung schon erwarteten. Danach ging es schön zum Mittagessen in der großen Runde und abends folgte ein gemütlicher, feucht-fröhlicher Abend bei mir zu Hause. Und gestern holte ich den verpassten Schlaf der vergangenen Wochen nach.
Damit ist mein Studium nun offiziell zur Hälfte rum. Wenn alles gut läuft, schließe ich in 3,5 Jahren nach 10 Semestern Regelstudienzeit mein Studium ab. Schon ein sehr komisches Gefühl, an das ich mich noch etwas gewöhnen muss.
– English Version –
After weeks of studying, much sweat and being nervous, I did it: I passed my mid-studies oral exam with a B+ on Friday, 28 May 2010. The questions went into a different direction I thought they would, but I was successful. I am relieved that it went so well and was so happy, since some of my closest friends were waiting for me in the hall at University. We went out for a nice lunch afterwards and followed it up with a chill & drink evening at my place. And yesterday I caught up on the missed sleep from the last weeks.
With this exam, half of my studies are officially over now. If everything goes well, I will be finished with university in 3.5 years after 10 semesters – which is the regular study time. A weird feeling that I still have to get used to…